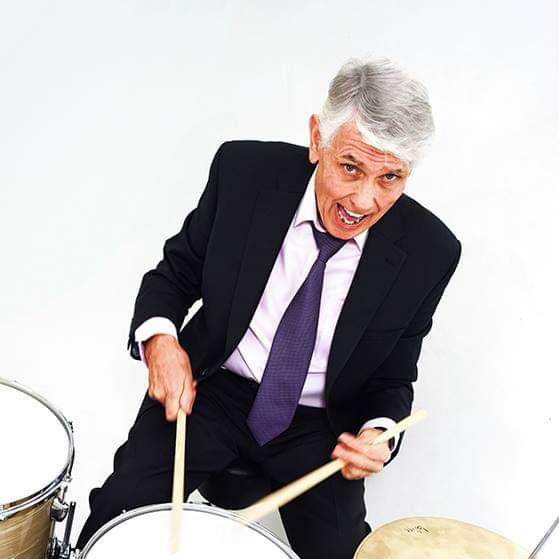 Lloyd Ryan's Jazz Force
Drummer, Teacher, Clinician, Columnist, Author, whichever way you look at it, Lloyd Ryan has always, first and foremost been a drummer. Dedication, versatility and superb musicianship are the keys to his success in both performing with his own jazz band and with many of the greatest names in the business.
Over the years Lloyd has worked with Edmundo Ross, Matt Monroe, Ray Ellington, Brotherhood of Man, Tony Christie, The New Seekers, Hurricane Smith, Ken Mackintosh and many many more.
He has backed artists such as Cilla Black, Brian Conley, Michael Barrymore, Tommy Cooper, Les Dawson, Cannon and Ball the list goes on.
As well as being a clinician touring the World doing drum seminars, Lloyd has also built up a reputation as teaching some of the drumming greats. Phil Collins, Derek mackenzie (Jamiroquai) Keef Hartley (John Mayall) Kevin Wells (Huey Lewis and the News) and Graham Broad (Tina Turner and Go West) are just a few.
Releasing his successful single Kendo's Theme for one of Britains best known wrestlers of the time, later lead to Lloyd becoming the manager for the masked wrestler Kendo Nagasaki.
Lloyd supported the legendary Buddy Rich Buddy Rich at the Lewisham Jazz festival in 1986
in 1995 Lloyd was billed as Britains Buddy Rich (not for the first time) when he joined Kenny Ball, Humphrey Lyttelton and George Melly on the Giants of British Jazz tour of GB.
Lloyd formed his own Jazz Force band, using the UKs top jazz players and in 2019 will be back on the road performing at jazz festivals and jazz clubs across the UK.
In May 2019, Lloyd and his jazz force will be going back into the studio to record a brand new album.
To book Lloyd Ryan's Jazz Force email samsway2018@hotmail.com
What They Say:
Drums UK Magazine reviews
A Tribute To Buddy Rich featuring the Dave Marrion Big Band with Lloyd Ryan on drums.
'The numbers were executed with great style and authenticity and it has to be admitted, there are few British drummers who capture so well Buddys essential spirit as Lloyd Ryan'
Croydon Live Magazine.
'If you think a drum solo is the bit where the rest of the band wander off stage for a drink, and the drummer proceeds to do an impression of a heavy goods vehicle reversing into Harrods china and glass department, you haven't heard Lloyd Ryan! His solo at the Croyden Jazz Festival got 500 people on their feet'
'A great drummer' John Coghlan, ex Status Quo
'Enigmatic and opinionated, Lloyd is one of our great music business character. the boy certainly got himself a life' Bobby Elliot, The Hollies